Cherry Casino review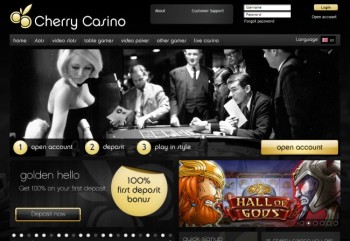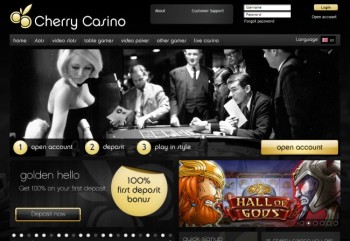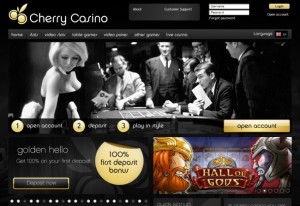 Software
:
Net Entertainment
OS Compatibility
:
Linux, Mac, Windows
License
:
Malta
Positives
great interface, slick gaming experience, reliable, safe casino and decent support that offers excellent odds for its slot machines.
Negatives
there are better deposit bonuses out there and although there are great slot machines and other gambling options some players will want more choice than is offered here.
Bottom Line
Overall there are about 100 games or so available on Cherry Casino which is a good variety but it does not rival what some other online casinos are able to offer. Their offering is one of the better "no download" casinos out there, being powered by Net Entertainment's Flash-based software. We can safely say you can trust Cherry Casino as they have a huge history, were founded in the Nordics in 1963 and entered the online scene back in 2000. Players wanting lots of choice and variety may find themselves getting a little restless if this is the only online casino that they use but other than that it is a good quality gaming experience that pays out well.
PostedOctober 21, 2012 by
Alex Eliades
Cherry Casino has been around since 2000 online and over has over 40 years as an off-line casino operator. It is always good to be dealing with an established casino that is unlikely to suddenly disappear and not be able to pay you winnings. With a brand with over a decade of providing high quality customer service is unlikely to suddenly disappear or change its service standards. It uses NetEnt Software which is one of the better online gaming software around for "no download" play. This is combined with a slick "skin" that Cherry Casino uses which nicely compliments the NetEnt Interface.
A casino experience can only be as good as the gaming software it uses and the Net Entertainment Software is a truly excellent gaming platform which won the Casinomeister Award in 2011 for the Software Provider category. All its games are Java based but offer an experience in terms of quality and slickness that is more commonly found in download only casinos. The software designers take quality gaming experiences seriously and have gone to a great deal of effort to ensure that their systems are fair, secure and offer really good payout rates (in the 95-98% payout rate) which goes a long way to ensuring you will have a top quality experience playing at the site. I find some "no download" casinos do not always offer a particularly immersive experience but I found myself fully engaged and involved when using the software.
Before you should ever play at a casino it is always a good idea to take some steps to ensure that they will treat you fairly with many online casinos carrying out a range of practices varying from slow payments, no-pays, tricky bonus terms and rigged games but you can rest assured that with Cherry Casino you are in safe hands. Reputed sites such as Casinomeister recommend Cherry Casino as a safe and excellent place to play and whilst you will be able to find a few disgruntled posts in forums about Cherry Casino all the ones I saw related to people who had tried to withdraw winnings without coming anywhere near to complying with play through requirements or to a different casino. However you do need to be careful to play at Cherry Casino and not "Cherry Red Casino". Cherry Red Casino is a completely different casino which has a very poor reputation for customer service and for slow paying winners so make sure you visit the right casino through the links on this site. Customer service is quick in dealing with and responding to any issues you might have and aim to reply to all customer queries within 30 minutes. Personally I always prefer live chat support as this way if I do not understand what someone is saying I can ask clarifying questions and get instant answers but this is still very decent support and the fact that the software runs so smoothly and that the bonus terms etc are pretty easy to understand it is unlikely you will actually have any real occasion to contact the support team.
It is worth highlighting that there are several different casinos using Net-Ent software that is also owned by the same company as Cherry Casino and ultimately offer very similar experiences. I slightly prefer the look of CasinoEuro.com which is also owned by the same group but this is largely a matter of personal preference and I can see many people preferring the slick black backgrounds and interface that Cherry Casino uses. I do not particularly like the roulette games available on Cherry Casino and prefer a larger and clearer wheel but this is just my taste.
I really like the blackjack games at Cherry Casino. I always gravitate towards blackjack and really enjoyed the slick, quick and easy to use interface for the blackjack games. I like to play blackjack fast and I find some other interfaces are too slow and others very easy to make costly mistakes through accidental clicks but this interface is put together in a way that minimises the chances for click errors. This interface is one of the best ones around for me. Blackjack players may not enjoy the 150 times play through that they would need if they are using the deposit bonus but the game software is a great selling point for Cherry Casino as are the other table games which are equally slick and satisfying.
Overall there are about 100 games or so available on Cherry Casino which is a good variety but it does not rival what some other online casinos are able to offer. Players wanting lots of choice and variety may find themselves getting a little restless if this is the only online casino that they use as although there is plenty of choice for me some other gamblers would want a bit more variety whether it is a greater range of video slots, jackpot slots or a greater selection of video poker games.
In my years playing video slots on many different platforms I have found many games that I love, enjoy and keep coming back to and whilst there were many games on Cherry Casino that I liked and quite a few that showed interesting features and innovation there were no games that I found myself falling for but I did enjoy playing the different slot games and felt the themes were all well rendered with well thought out features that are well worth a slot fan seeking out. With all of the video slots they have a great interface, easy to read instructions, easy to use and very slick Autoplay features and everything a slot player could want. The bonus features are interesting and varied and there are some fun themes that they have come up with.
The deposit bonuses with Cherry Casino are pretty much the same as for other Net-Ent casinos. Bonus terms are always prone to change but currently offer a 100% cashable bonus. Bonus terms are written in a fairly easy to understand way and as long as you actually take time to read the bonus terms should not really confuse anyone too much. Basically you need to play through 30 times your deposit plus bonus although many games such as video poker and blackjack can need substantially higher playthroughs. With Cherry Casino you can also get a 30% monthly deposit bonus although the terms are somewhat less favourable and if you mainly play table games then you probably do not want to claim this bonus. There are also extra bonuses in the form or regular tournaments that provide great additional value.
Overall Cherry Casino is well worth checking out. You can easily check out games without depositing to see if it is the right site with the right games for you. If I was only to ever play at one online casino ever in my life again then this casino would not be it but it is still a very good option for people to consider. Some gamers may prefer Mr Green Casino as this, in addition to the NetEnt games has games from some other software providers so you get more choice than Cherry Casino is able to offer.
---